Good evening, readers! (I think there might be more than two, now!)
As Carol mentioned in her last post, we've started tossing around the idea of co-buying and co-owning pieces. The idea for this stemmed from the fact that we kept seeing things that we loved, but we weren't sure we loved them enough to buy them at full price (or even on sale, in some cases), and we obviously can't afford to buy every piece that strikes our fancy. However, if we put our resources together, we could get more mileage out of the clothes and our pocketbooks. We decided this kind of thing wouldn't really be practical for everyday items or machine washable pieces; but for occasion dresses or higher-end clothing, it'd be fantastic.

With this in mind, I made my way back to Anthropologie in hopes of finding some of the dresses we had talked about co-owning. I purposely looked for the same dresses that she tried on during her most recent visit. Sadly, my store didn't have the Rising Vapors Dress or the Reed Shirtdress in stock. (Carol already owns the Reed in the red motif, but she liked the blue one too and I talked about buying the blue one so we could occasionally swap)

So instead, I started off by trying on a dress that our friend Sarah Snyder had talked about:

The Fiber Optics Dress, $198 Item #033014
Oh, what a pretty dress by Sophia Eugene. I love the fluttery sleeves and the subtle, feminine print. The material is a gorgeous, light silk which I felt could be dressed up (with cute heels) or down (with boots and tights and a little jean jacket in cooler weather, or with sandals in warmer weather). As a rule, wrap dresses are supposed to be universally flattering. And although this one doesn't look bad, the fit was a little off. I'm 5'8" and generally between a size 4-6/Small, and the size 4 in this dress was almost baggy on top for me, no matter how tight I tied the sash. I guess I can blame my small chest? The thing is, I wouldn't want to size down any more, as the length on the size 4 hit me 2-3 inches above my knee. Which brings me to another point – the dress seems shorter in front than in the back. Maybe that's the effect they were going for, with the design? 
The really ugly part is the price. With a price tag of almost two hundred dollars, it just strikes me as rather odd that it would be thirty dollars more than the infamous Drifting By Dress. I just can't stomach buying this one at full price, but I might consider putting it on my wishlist for a sale just because I liked the color so much.

The Traced Twirls Dress, $158 Item #033018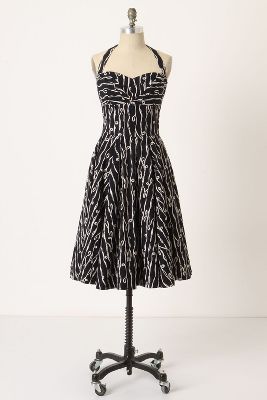 Hello, Beautiful Dress. I heart you. Won't you be mine?
Carol had tried this dress on in her last post, and it was so beautiful on her that I wanted to give it a try. I'd also heard about this dress through Sarah, who had loved it and purchased it a few days before. Sarah's first Anthro purchase, yay! And I can see why – I found this dress to be extremely flattering – I actually felt thin in this dress! It even flattered my small chest! It's one of those dresses that you put on and you instantly feel pretty and girlie. It has a full skirt with crinoline underneath, which gives the dress some added volume on the bottom. Oh, and another bonus? The dress is shown as a halter, but…ta-da! It can also be worn as a strapless! As Carol would say, "It's a Transformer…it's more than meets the eye!"
As for size, I tried a 4 and it fit comfortably. It's longer than most dresses I've bought from Anthro, so if Carol and I decide to co-own it, we might have to do some fiddling with the length in order for it to be flattering for both of us.

Of course, I have to laugh at the idea of buying the same dress as Sarah because it would be yet another thing out of the countless number of random things we happen to have in common. I hope she'll forgive me, because I love this dress. I want this dress. I think my Anthro birthday card is going to go toward buying this dress.

The Dewbud Tee, $88 Item #013128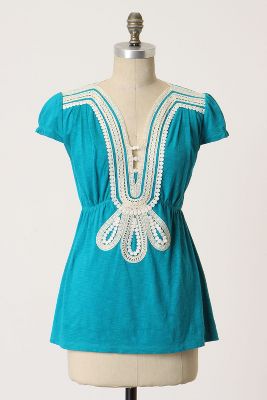 For $88, this shirt better make me look like Megan Fox. (but with better thumbs) I also think it should be able to translate Russian to English, wash my dishes for me and make Scott Niedermayer fall hopelessly in love with me. Don't get me wrong, it's a nice shirt…but, $88 nice? Nah. $40 nice...? Getting closer, but…still just a maybe, for me.

In all seriousness, I thought the turquoise color and the appliqué detail were lovely, but the shoulders had kind of a weird effect on me…reminiscent of shirts from the 1980s that had big shoulder pads. I took a size Small, and I just thought the sleeves were a little odd. *shrug* Maybe it's just me. I'm still trying to figure out why Yoanna Baraschi shirts are so gosh-darn pricey.

The Climbing Cowlneck, $48 Item #013114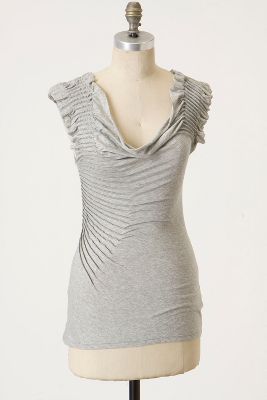 And the Rhona Skirt, $88 Item #023133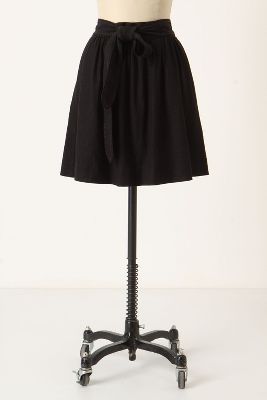 (Wow, I look awkward...)
As noted above, I am not the most well-endowed girl in the world. Therefore, I love any shirt that makes me look like I have a chest. This little number is by C. Keer, maker of the Night Skating Top that I adore. I took a size Small in this top, and I love how comfortable and flattering it is. The length was more than adequate to accommodate my long torso, so it might be kind of long on a girl with a shorter torso.
C. Keer, I love thee. 

I don't own the Thousand Days Skirt or the Great Escape, but I wish I did. Judging from photos I've seen on other girls, this skirt fits a lot like the Thousand Days/Great Escape. This version has an extra ribbon-sash detail on it with white topstitching (I'm such a sucker for topstitching), along with pockets on the side. One little detail I found somewhat annoying – it's hard to zip up, once you get to the waistband. At that point, you have to fight a little bit to get it zipped up the final two inches.  

I also managed to find a lovely pair of pants by Cartonnier (whose style name I can't seem to locate online, but they're very similar to the Step Lively Trousers, only without the large cuff at the bottom), which fit me really nicely, and weren't bad, for $19.95:
You can also see the length on the Climbing Cowlneck better in this photo with the $19.95 pants...wait, what?! 
Yep, I typed that correctly. I found a pair of $88 pants on sale for $19.95. *happy dance!*
Me likey!
Okee doke, that about wraps it up for this edition of Anthropologie fitting room reviews. Once again, I apologize for the quality of my cameraphone pics. I *gulp* don't own a decent point-and-shoot camera at the moment, and I still haven't worked up the courage to actually carry my SLR with me into a fitting room. 
Until next time, and thanks for reading!
-Kathryn