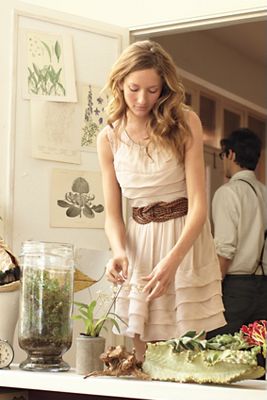 Like many others, I fell in love with this dress the moment I saw it appear online. It was pretty, it was silk, it had tiers...it had everything I could wish for, in a dress. I was already dreaming of making a happy home for this dress in my closet.
So, imagine my excitement when I learned (through my new best friends at 1-800-309-2500) that my local store had the Drifting By Dress in stock!
I'd already gotten a sneak preview of the dress from reviews I'd seen online. Rosa from Love At First Shop and Tien from Adiaphane had received their dresses from Anthropologie online, so I couldn't wait to try it on for myself.
I hurried into my Anthropologie store and found out the dress wasn't even on the salesfloor yet - I had to get a sales associate to pull it from backstock for me just so I could try it on!
And then...I tried it on.
...hm.
I wanted to love this dress. I really did. And...it's not like it's a bad dress. The dress itself is beautiful. But when I walked out of the dressing room to show my dear hubby, he was...well, underwhelmed. 
I think it's just that the color doesn't really work, on me. I'm very fair-skinned, so I just don't think I have the complexion to carry it off. It totally washes me out. I was hoping the color would be a little more pinkish, but it's really more of an oatmeal-y/creamy type of color, if that makes any sense. *shrug* 
As for size - I've learned that, at 5'8", I usually need to size up a bit in Anthro dresses or else they end up too short on me. I took a size 6, in the Drifting By Dress.
This is me, trying to convince myself I really like the dress:
Sigh. I really do still love the dress...just...not on me. Sigh.
BUT..!
My new BFF at 1-800-309-2500 asked me the most interesting question, when I asked her what local stores were carrying the Drifting By Dress.
"Were you looking for it in the cream, or the blue?"
IT COMES IN BLUE?!
So, there may be hope for me, yet. Heh heh heh.
Anyway, in my attempt to take more risks with my wardrobe choices, I also tried on the Tassel Fronds Dress at Carol's urging:
This is an example of a dress I'd never try on, if it hadn't been for Carol. (Remembering my fear of prints/patterns...) That said, I was pleasantly surprised at how cute this dress was, when I tried it on. It's not an overwhelming print, it's got delicate black lace shoulder detail, and it's just so light and girlie. (it's even got little ruffle detail, in the front!) It actually looked pretty cute with my black sweater tights and my ankle booties. I was actually able to squeeze myself into a size 4 for this one. I've put this on my "think about it" pile. I like it, but I'm not sure I $89.95 like it, yet. 
I also tried on the Step Lively Trousers, which were exactly the perfect cut of pant that I love. Fitted through the hip and upper thigh with a flared leg. (didn't manage to get a good photo of them on me) At $49.95, I think I'll be ordering these directly from Anthro's website, in the dark grey. (my store was sold out of them  in grey, and only had them in navy)
So, after all was said and done, I ended up buying two Snakebite Belts, in brown - one for me, and one for Carol.
Hahaha, "I went to Anthropologie and all I got was this lousy belt..."
...actually, it's a fantastic belt. Not in the least bit lousy. I don't regret this purchase at all.
Okee doke. That's for now. Thanks so much for reading.