I steal outfits. There. I said it.
Maybe a more-PC term would be to say, "I was
inspired...
" (which I was, truly!) But you get the point. Basically I see something on someone that I like, and I want to wear it too.
When Carol and I saw Maria's
outfit
over on her blog,
Infinite Whimsy
, we instantly said, in unison, "I want this outfit!"
So, being the little copycat that I am, I was lucky to score the Thousand Days Skirt on eBay not long after Maria's post appeared. I'd been lusting after the skirt for awhile, and seeing Maria's beautiful outfit really sealed the deal for me.
So Maria, I hope you'll forgive me for my shameless carbon copy. It's just that you're so lovely, and I love your blog, and really...who
wouldn't
want to dress like you?
My Tribute to Maria Outfit includes:
The other funny thing about today's outfit is, I actually had to wait awhile to be able to wear it. It's been super warm here in SoCal recently (and earthquake-y too!), so I didn't exactly think this outfit was appropriate for 80-degree weather. So I used the five-degree drop in today's forecast as my justification reach for my tights and pull on this outfit. How silly am I, that I was actually
hoping
for colder weather so I could dress like Maria??
Yep, that's how I roll.
So anyway, I was cruising Anthropologie's site this morning when my wallet had a heart attack. I mean, seriously. Why doesn't Anthro just hold me up at gunpoint and steal my purse? Better yet, why don't they just shoot me in the head? Both of those things would hurt less than how my heart feels right about now.
When did
this dress
appear...?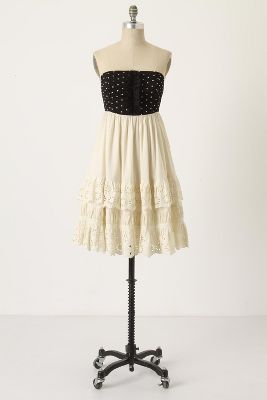 Hovering Dots Dress
, $148 (Style #18449777)
Be still, my heart. Tiers and scalloped hems, on a dress! Polka-dots and ruffles on the bodice! Gah!
And don't forget this one that
Kim
blogged about, the other day: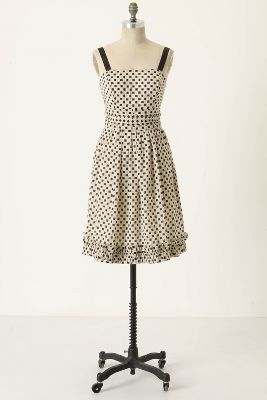 Chocolate Chip Dress
, $128 (Style #18293654)
I love, love,
love
this dress! I can't wait to try this baby on. If it fits and it's true love, I'm thinking of asking (begging?) Carol if we can co-own it. I don't care if I have to lose five pounds to fit into the same size as her, I'll do it if it means I can have this pretty dress.
(Okay, so I realize these are some pretty high-class problems I'm having, if I'm wailing about wanting to buy dresses.)
...and hey, have I been so out of it to not notice this top on Anthro's site...?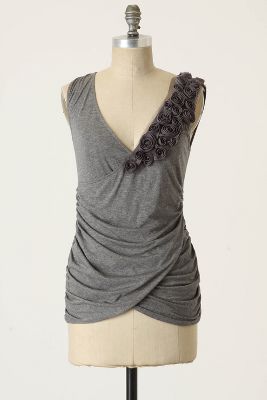 Courtship Blooms Knit
, $58 (Style #013258)
The bottom of this reminds me of the
Rare Bloom Tee
, only with the embellishment on the shoulder instead of in the middle. (and no sleeves) But I'm such a sucker for flowers and ruching, I could see this making a home in my closet.
Too many pretty things, so little available cash.