Hello, and Happy Sunday Everyone!
So, I
finally
made it over to Anthropologie after a crazy work week to check out what was left of Tuesday's Epic Sale of Justice. Unfortunately (or...fortunately, for my wallet?), there wasn't anything left that I wanted, by the time I went in. No Reed Shirtdresses to be had. Booooo!
So with no sale items to snag, I decided to try some new stuff!
Having just written about this top the other day, I was happy to see the
Courtship Blooms Knit
($58, Style #013258) in the Newport Beach Anthropologie:
I didn't like it nearly as much as I liked the Rare Bloom Tee that
Carol bought the other day
, but it looked
much
better on, than it did on the hanger. It's weird - it looks huge and hangs awkwardly on the hanger, but it's much more fitted and flattering once it's on. I grabbed a S (my normal size) and it fit pretty well. It's nice and long, which is a plus for a girl with a long torso like me.
Since it looked so huge on the hanger, I tried on an XS in the pink, for comparison. There actually wasn't a lot of difference between the XS and the S, which I thought was strange. Though the XS fit okay, I think I'd stay with the S to give myself that extra length in the torso.
It's not a bad top, but it's not something I feel like paying full price for, at the moment. Back to the rack...
So here's the
Pearly Glow Tank
by Velvet. ($68, Style #18300004)
I actually liked this top more than I thought I would. It's an easy summer top that has a little more "oomph" than a basic tank or cami, and it looks great with jeans. I grabbed a S and it felt like the right size...though, I'm pretty small up top and it was a tad loose for me. I wouldn't size down to an XS because the top isn't very long to begin with, and I'd lose too much in the length.
I wouldn't mind owning this top. It's not awful by any stretch of the imagination. However,
like Carol mentioned in her last post
...if I had X amount of money, I'd rather spend it on something else.
Like on a dress, for example. ;o)
Speaking of which, here's the
Knotted Poppies Dress
by Floreat. ($158, Style #030035)
Yep, I've got my hand in the pocket...which means this dress has pockets. I'm a sucker for pockets. I
love
the functionality of a dress that has pockets.
For a girl who gets a little freaked out by prints and patterns, I really liked this dress. The colors are so pretty and the fit is really flattering, once it's on. The tricky part is
getting
the dress on. I tried on a size 4 in this one and it fit me okay, though it was a bit big on top. This was a situation where the dress was a teeny bit baggy on top, but I felt I needed the extra room in order to pull the dress on and off over my head and shoulders. There's a side zip on the dress, but it doesn't quite go all the way to the top and there isn't an adequate opening at the neckline in order to pull this dress on and off comfortably. I might have been able to size down to a 2 to fit in the chest better, but I was afraid the shoulders would rip when I needed to take the dress off.
You can kind of see the extra room, in this profile shot:
Even given the slight fit issues, I'd still be tempted to snap this dress up. The colors are just so neat, and it's not like anything else I own. I still haven't tried the
Chocolate Chip Dress
or the
Hovering Dots Dress
, so I want to wait and see how I do with those dresses before I decide.
Unless it's a candidate for co-ownership. (Hi Carol!)
So, the last item I tried was not something I was able to get a photo of, so I'll show the stock photo: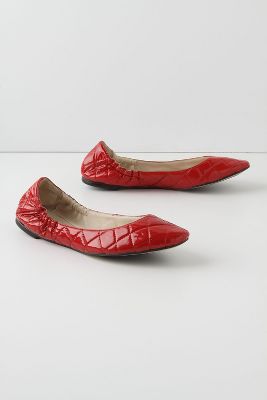 Diamond-Stitch Skimmers
($118, Style #043120)
The powers-that-be have decided to institute a (*cough cough* decidedly no-fun) "no open toe shoe" policy at work...just in time for the weather to get warm. Le sigh. So I've been on the prowl for cute flats that will be good for spring and summer, and I was
thrilled
to see these shoes in the store so I could try them on.
I'm normally an 8.5 in most shoes (my
Tory Burch Revas
are 8.5, as are my
Frye Jane Boots
) and I'm a size 8 in
UGG boots
. I'll need a size 9 on occasion (like my
Linea Paolo Frisco Flats
). I had to size all the way up to a
9.5
for the Diamond-Stitch Skimmers. That seems to be the consensus, with most Anthro shoes. They run small, I guess. I was still surprised, though.
I had tried them on in the store, with the J.Brand Olympia Denim Leggings in black (similar
here
) and the Courtship Blooms Knit in grey, and the whole outfit was pretty cute! The pop of red from the shoes was just darling. Unfortunately, I couldn't bring the shoes with me into the dressing room, so I wasn't able to snap a photo of the whole look. And I just felt awkward snapping a photo of myself while in the communal waiting area. These lovely shoes made their way home with me, for the purposes of trial-on-carpet. While I LOVE these shoes (note the all caps, for emphasis), I'm not sure they'll be comfortable enough for my particular feet. (I have some pretty severe bunions...sorry for the TMI) So I'm going to try wearing these shoes around the house, to see if they'll work for me. I'll try snapping a photo in the next day or so, to show.
I'll leave off with my outfit that I wore on Saturday. This outfit features one of my favorite dresses ever, by Black Halo. This dress is very much the type of dress I always adore - simple (maybe a little boring? haha...) but elegant. It was one of the first dresses I remember seeing that featured the "two-pieces-in-one" effect. I'd loved it when
Mandy Moore wore it on the cover of Lucky Magazine back in October of 2007
, and I was SO stoked to score it on super-duper markdown last year. I had a big conference to attend this weekend - where I'd have to be handling a bunch of VIPs - so I thought this dress would make a nice impression.
Some photos of the dress, without the cardigan:
Detail of the ivory silk bodice:
Close-up, with cardi:
(Side note: I'm also an incredibly lazy human being, so it's nice to have a dress that can function as an entire outfit - cami attached to skirt with belt! Woo!)
(Side note, #2: Remember in my last post a couple of days ago, where I said I steal outfits? So...yeah. I just realized that I basically stole this entire outfit from that Lucky Magazine cover. Woo-woo, Kathryn FTL. Or is it FTW? I can't decide.)
Black Halo Bouquet Cami Dress (circa 2007)
Brass Plum Three Quarter Sleeve Jersey Cardigan (in white, from Nordstrom, $24.90 - I LOVE these. I could buy them in every color!)
ZARA D'Orsay Pumps (circa 2006?)
Pearl Bracelets (suuuuuuper old)
As I was taking my OOTD pics, I noticed that the Mexican Primrose my husband planted in our patio two years ago have come back again this year. I swear, there were only one or two blooms the other day, but today there are at least a couple dozen! I was so excited, so I snapped a pic:
I love it when these flowers bloom. They're the softest, prettiest, pale pink, which is arguably my favorite color.
Thanks for reading, and I hope everyone has a lovely weekend!