Another Tuesday come and gone, another set of sale items! Nothing in this week's sale was screaming my name, so I was able to stand firm and not get anything today (whee!). This doesn't mean I wasn't involved in sale/clothing acquisition-related activities - in fact, my much anticipated sale items from last week were delivered today (the Compeer and the Choreographed Dresses) and as excited as I was to finally have them both in my grabby hands, I confess myself a little baffled by these. When I ripped them out of the packaging and tried them on, I found that I still loved the Choreographed Dress, but that wasn't really thrilled with the Compeer. Yet, when I tried them on for my family (Rowan voted for the Compeer strictly because it has easy-access pockets into which he can store his toys - he demonstrated for me a couple times) and picture-mailed photos to Kathryn, they all seemed to like the Compeer better.
I may just end up returning both. But here I am in them (wearing a size 2 in the Choreographed and an XS in the Compeer. I'd say they're true to size, though the belt on the Compeer was a little snug on me, I thought) - what do you think?
Last week, Kathryn and I unveiled our lists - our "Buy at Full Price" and "Buy on Sale" priority lists. Due to having tried on some new arrivals, my lists have seen a shuffle of items - some additions, some removals, and some shifts from one to another. So, in the interests of transparency, my full price list includes the following:
1.
Molded and Melded Tee, white
2.
Frill Force Jacket
(purchased)
3.
Dog Trot Cardi
(purchased)
4. Mystery Tweed Pheasant Skirt
5.
Finishing School Skirt
(purchased)
6.
Ha'penny Cardigan, purple
7.
AG Stevie cords
, wine
8. Southward Stop Dress
My sale price list (so far):
1.
Choreographed Dress
(purchased for consideration, see above)
2.
Compeer Dress
(purchased for consideration, see above)
3.
Sugar and Cream Dress
4.
Mullany Dress
(I'll explain later)
5.
Remaining Lilies Sweater
6.
Scribbled Bouquet Cardigan
7.
Lima Lines Skirt
8.
Ha'penny Cardigan
, yellow
9.
Falling Folds Pants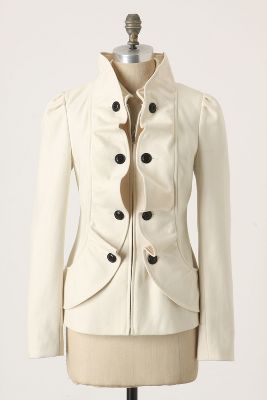 Hello, Everyone!
So as some of you may have noticed, the mystery Idra is
finally
online. And the gal at CS that I talked to didn't lie - it
is
available in 3 colors and it really is called the
Cream Confection Jacket
.
Seriously, how PRETTY is that coat in the cream? Gah! Did I make the right choice in getting the "neutral?"
Anyway, awesome. It's finally online. Now we may all go forth and SHOP.
(debbie deb, I'm looking at you)
Kathryn's Full Price list:
1.
Mystery Idra Jacket
Cream Confection Jacket
(which I bought here)
2.
Acting Out Skirt
(purchased)
3.
Babergh Dress
(watching this one like a hawk)
4.
Bianka Blouse
(thinking hard about this one...)
Kathryn's Sale Price List:
1.
Once & Always Tee
2.
Lima Lines Skirt
3.
Mullany Dress
(...there's an explanation for this one)
4.
Remaining Lilies Cardigan
5.
Compeer Dress
(please make it to second cut, please make it to second cut...)
6.
Tiny Windows Dress
(stock is getting low, and I am getting weaker)
7.
Secret Treasure Dress
8.
Graces Tank
9.
Pinpointed Skimmers
(on sale, but I can't decide if they'll hurt my feet)